Diary Dates
St John's Campus
November

Friday 5
Coffee on the Oval, 9.25am
Tuesday 9

Year 7 Introduction Day #2

ELC Parent Information Night, 7pm

Wednesday 10
P&F Meeting, 6.30pm in G67 (upstairs in the Winchester Street Hub, Concordia Campus)
Wed 10 - Fri 12
Special Interest Music Auditions
Sunday 14
Year 6 Family Event
Tuesday 16
Year 6 Exhibition
Thurs 18 - Fri 19
Year 3 Camp
Friday 19
St John's Campus Christmas Market Stall, 3.15pm
Mon 22 - Wed 24
Year 6 Camp
Saturday 27

ELC End of Year Parent Drinks (TBC)

Year 2 Family Event, 4pm

Tuesday 30

St John's Campus Instrumental Concerts

December

Friday 3
Year 6 Graduation Dinner and Parent Function
Monday 6
Carols Service
Thursday 9

Last day of Term 4

St John's Campus Closing Service, 7pm in the Chapel
Concordia Campus
November

Mon 25 October - Fri 12 November
Year 12 IBDP Exams
Mon 1 - Fri 12
Year 12 SACE Exams
Tuesday 9
Year 7 Introduction Day #2
Wednesday 10
P&F Meeting, 6.30pm in G67 (upstairs in the Winchester Street Hub, Concordia Campus)
Wed 10 - Fri 12
Special Interest Music Auditions
Thursday 11

Remembrance Day

Year 8 and Year 10 Immunisations

Thursday 18
P&F Year 12 Parent Function and Student Dinner, 6.30pm
Friday 19
Arts Show (Online Exhibition, details TBA)
Mon 22 - Fri 26
Year 8 Connected Concordians
Monday 22
Year 11 SWOT Day
Tues 23 - Mon 29
Year 11 Exams
Tues 30 October - Thursday 2 November
Year 10 Exams
Tuesday 30
Year 11 Student Free Day

December

Wed 1 - Thurs 2
Year 12 2022 Orientation
Friday 3
Concordia Campus Swimming Carnival
Monday 6
Carols Service
Wed 8 - Thurs 9
Year 7 Overnight Camp
Thursday 9
Last day of Term 4
Upcoming Events
Year 12 Student Dinner and Parent Function
Thursday 18 November | Students - 6.30pm at The Pavilion (the Quad, Concordia Campus) | Parents - 6.45pm at Damien on Fisher, Living Choice
These special events mark the final student and parent events for our Year 12 families, as we celebrate the conclusion of the students' final year of schooling. Bookings are essential. For full details of these events and to book, please refer to the email sent to Year 12 parents/caregivers.
Concordia Campus Arts Show
Friday 19 November, Online Exhibition (details coming soon)
Witness the creativity, artistic expression and craftsmanship of our Visual Arts, Art - Design; Design, Technology and Engineering; Media and Photography students via our online art exhibition. Access details will be sent to families soon.
Year 6 Student Graduation Dinner and Parent Function
Friday 3 December, meeting at 6.15pm in the Quad
Our Year 6 students and their parents/caregivers are invited to these special end of year events to celebrate their time at our Primary School. Families may congregate in the Quad (Concordia Campus) at 6.15pm for a photo opportunity. Students will then head upstairs to The Suaviter for their dinner, commencing at 7pm. Parents will move to Damien on Fisher, Living Choice, Fisher Street at 6.45pm. Bookings are essential. Please refer to the email sent to parents/caregivers for full details and to book.
St John's Campus Closing Service
Thursday 9 December, 7pm in the Concordia College Chapel
The Closing Service formally marks the end of the year for our Primary School, and this year the Service will again operate in a reduced format, to adhere to COVID-19 guidelines. As such, we look forward to welcoming the following guests to the Chapel for this special occasion:
Year 6 students and their parents (up to four adults per student)
Year 5 students (one adult per student).
For more details, Year 6 parents are asked to refer to the 'end of year events' email sent to Year 6 parents/caregivers early in Term 4. Year 5 parents will receive an email about this event in the coming days.
Concordia College 'extraordinary' Gala Ball 2021
Saturday 19 March 2022 at 7pm in the William Magarey Room, Adelaide Oval
Book Your Early Bird Tickets Now
Tickets: $200 per person.

Connect with other parents on one of our community tables, or contact Angela Warrick to register as a Table Captain.
Help us today - donations of auction items (small or large) urgently needed
Proceeds from this year's event will help fund the construction of a new gymnasium for the entire College from ELC to Year 12.
To assist with our fundraising, we are asking all families to consider contributing to the silent auction. For example, we are seeking:
Items (small or large - carton of wine, beer, spirits, homewares, jewellery, plants, candles, clothing, books, gift baskets)
Services (cleaning, financial, health and beauty, fitness and leisure activities, pet pampering)
Experiences (restaurant gift vouchers, holiday homes, accommodation, movie tickets, wine tasting)
Donations can be dropped into the School Office at St John's Campus or to Reception or SSO at the Concordia Campus. For more information, please refer to the email sent to parents and caregivers on Friday 20 August.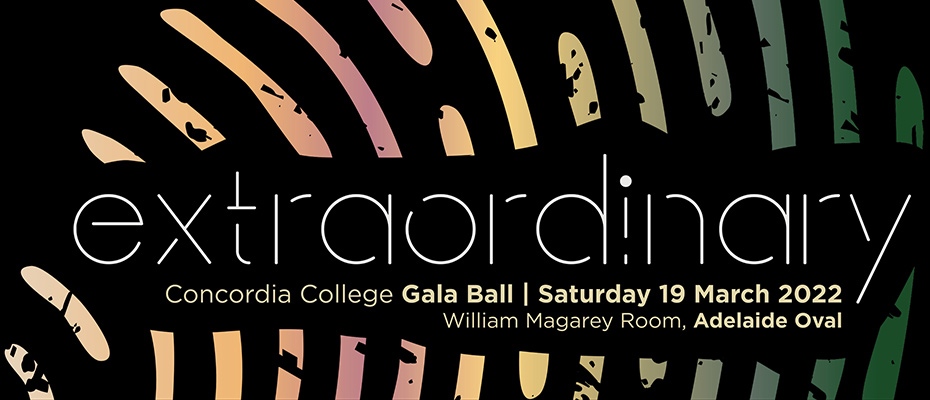 Public Notices & Events
Fullarton Park Community Centre is hosting a free discussion group session for parents run by well-known teacher, counsellor and author Mark Le Messurier. The discussion group will be held on Wednesday 17 November from 10am-12pm and will explore the topic 'Practical ideas to build self-awareness and personal-identity in young people'. Please note: bookings are essential due to COVID-19 restrictions. Numbers will be limited. Those who book tickets are asked to please advise the Centre if you are unable to attend as there may be a waiting list for this event. QR check-in codes will apply. To RSVP, phone 8372 5180 or email pdale@unley.sa.gov.au
International Sports Camps Australia are hosting three-day soccer, cricket, netball and basketball camps over the summer holidays. The camps are for students aged 5 to 15 and cater for all levels of experience. Please visit their website for details and to book. 
The School Shop
General trading – no appointment required. Wearing of masks is required and physical distancing rules apply. We thank you for your patience during this time.
General purchases may also be emailed to schoolshop@concordia.sa.edu.au and The School Shop staff will contact you for payment and advise when orders are available to collect.
Opening Hours – Term Time
Mondays: 8am – 4pm
Wednesdays: 12.30pm – 4pm
Thursdays: 12.30pm – 6pm
Polo Shirts - Orders
New stock and orders are available to collect.
Girls PE Sport Shorts – Orders
Orders are available to collect. If you have loan shorts, please wash and return to exchange for your pre-ordered shorts.
College Masks
Available for purchase - $12 each.
Second-hand Clothing
If you have uniforms you no longer need, they may be donated or sold on consignment in The School Shop.
Blazers and winter skirts/pinafores must be dry cleaned with receipt attached.
Jumpers must be washed using a wool wash detergent.
All other items must be in good condition, stains removed, washed and ironed ready for sale.
Summer hats must be hand washed.
Any uniform items in need of repair e.g. broken zips, seams unstitched, missing buttons, etc. must be repaired prior to acceptance for sale.
Buttons are sold in The School Shop.
Old Logo and Discontinued Styles – Uniforms with the old school logo and discontinued styles are no longer saleable in The School Shop but can be dropped off for overseas charity donation.
Old Logo
After a lengthy phase-out period, all students are expected to wear current uniform styles with the new logo by 2022. Please be aware of the differences between the old and new logos if purchasing second-hand uniforms from other College families.