Please find below information about a range of upcoming events at St John's Lutheran Church, Unley. 
Palm Sunday
The St John's community will re-enact a Palm Sunday procession on Sunday 10 April, from the church to the Concordia Chapel, arriving in time for the 10am service. All welcome!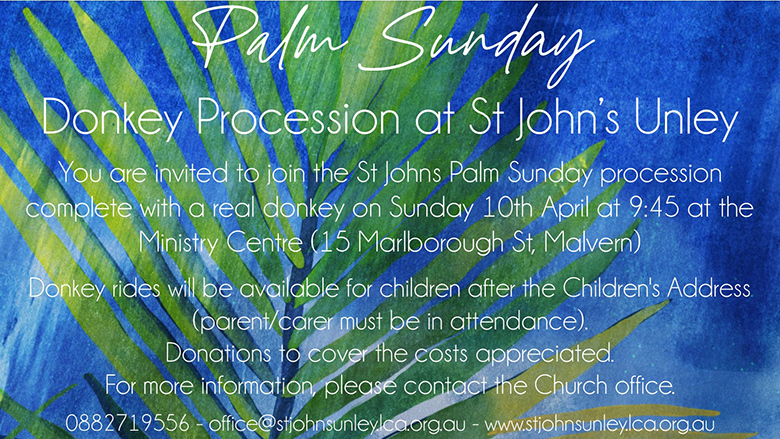 Easter Worship Services
All are welcome to join us at Easter services on Maundy Thursday (14 April, 7pm in the Ministry Centre), Good Friday (15 April, 9.30am in the Chapel) and Easter Sunday (17 April, 6.30am Sonrise Service in the Quad, 9.30am Easter Day service in the Chapel).
Walk My Way
On Saturday 7 May, the St John's Lutheran Church Unley community are invited to participate in a Walk My Way St John's event, walking around the streets of Unley beginning and ending at St John's Lutheran Church, 15 Marlborough Street, Malvern. This year we will be supporting the people of the Ukraine as they flee their war-torn country.
Circle of Security Parenting Course
The Circle of Security Parenting Course is an eight-week program for parents of children of all ages with a key focus on children aged 0-6 years old. For more information and to register, click the button below.